VERY IMPORTANT DOG


Breeding and selecting to preserve breed characteristics and improve type.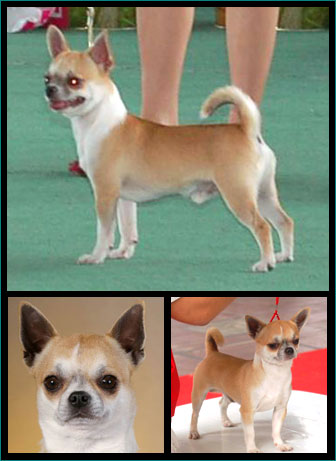 Hypotype is the transparent and diaphanous dilution of type's characteristics; hypertype is its exaggerated and caricatured image.
CH Yo Te Quiero Di Rio Galeria
Champion:
International Dog Show Euroasia Moscw (Rus) 2007 BEST IN SHOW Res. & Multi BOG BISS & BIS
Champion:European 2007, Italian, Finnish, Russian, Russian Federation RKF. Euroasia, Lithuanian, Ukrainan , Moldovian, Croatian, Slovenian Belarussian, Kazakhstan , Momtenegro , Lativa, Junur Russian, Winner Juniur Club Russian
The best Chihuahua smoot-coat Boorn and breded at the Club CCC in 2006
PROGENIE
Selection must always have as its aim the ideal, correct type, without ever going for its extremes. Both hypertype and hypotype not only betray correct type, but also the very idea of a specimen's harmonious picture.

CH Xeliantos Little Bemby Di R. G.

CH Music Velvet Obsession

CH Livia Romana Di Rio Galeria

Ch Dona Maya Desnuda dell'Aculeo

Guns An Roses Di Rio Galeria

Ch Music Velvet Igualada

CH Lucilla Prisca Di Rio Galeria

Galeria CH Don Volver Dell'Aculeo

Ch Dona Morada De F. Dell'Aculeo

CH Xeliantos Little Bonus

CH Xeliantos Little Biy Blanka

CH Xeliantos Little Nabi

CH Xeliantos Little O Favorit

CH Xeliantos Little Passion

CH Xeliantos Little O My Love

Ch Oceano Blu Di Rio Galeria