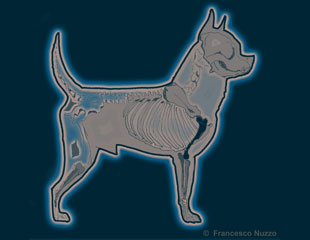 Selection


Undoubtely, at the root of the breeding idea of "di Rio Galeria" and "Music Velvet" kennels there is a rigid and strict selection of the breeding stock both for soundness and for type and temperament.
Soundness and health are a must and this shows the breeders' intention to eradicate genetic defects which, if present, might compromise the affected specimens' functionality and quality of life: that's why they are so strict when it comes to choosing their breeding stock. On the other hand, phenotype, with the pursuit of their own type both type wise and temperament wise, shows their intention to create a bloodline with a distinct feature, either enhancing or mitigating breed features that the standard already asks for.
Hence, an unavoidable eye on both phenotype and genotype; in their breeding journey they have always pursued the aim of breeding specimens even in type, every breeder's hardest achievement to get and even harder to keep. They managed to reach that goal by producing dogs that are immediately recognizable for their type, carrying that distinct kennel's look that can be appreciated at first sight.
Countless confirmation in zootechnical checks have been paying back "di Rio Galeria" and "Music Velvet" kennels' effort and selective rigour.
It is an every day commitment, but satisfaction is well worth the sacrifice.