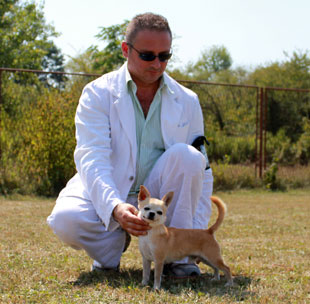 Our history



Paolo Tartaro starts his canine journey in the second half of the eighties by breeding Yorkshire Terriers while, in the meantime, he started to get involved in other toy breeds, first the Maltese, only to find, in 1995, the breed he appreciates the most, he prefers and he currently breeds, Chihuahuas. Only later he added to his breeding program some specimens of Russkiy Toys, a breed that has been recently recognized.
Paolo Tartaro's kennel name is "di Rio Galeria", a suffix approved by and registered with both E.N.C.I and F.C.I. with which he names all the dogs he breeds.
Not being born in a dog oriented family, at the beginning it was very hard for him to understand how to become part of this big world of dogs as, when a young boy, the exagerated love for the dogs was the only impulse that drove him to this parallel world together with the wish to improve it and an inborn and cultivated interest in the genetics, an interest which was eventually mastered with specific professional studies on the subject and about animal husbandry in general.
Little by little getting into this thrilling canine reality, he had to face enormous sacrifices to fully be part of it, always living this reality with serenity and peacefullness, never getting too excited with the circumstances.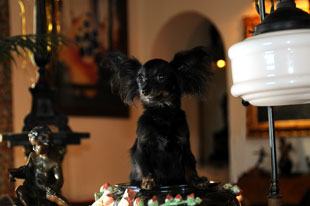 Today, not only is its kennel recognized by the Fèdèration Cynologique International located in Brussels, but it can also boast a license granted by the ASL, the Italian body responsible for monitoring animals' wellbeing, health and hygiene.
In 1996 Francesco Di Paola Nuzzo entered this official canine world and then it started this now historical (and consolidated) partneship with Paolo Tartaro in the breeding of purebred dogs.

Together they can claim over 600 champion titles and more than 140 champions among those bred by them, sold to other exhibitors or imported.
Francesco di Paola Nuzzo loves animals to the point of being a vegan, he has always had pets since his childhood. In the meantime, having a taste for functional beauty, which was eventually motivated and cultivated with specific professional studies, he knew how to combine his love for dogs and the pursuit of harmonious beauty, this way getting to the breeding of purebred dogs.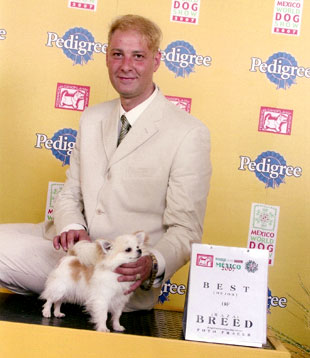 In the past he used to breed Yorkshire Terriers and Maltese, it's in 2000 that Francesco Di Paola Nuzzo found Chihuahuas to be the leading breed of his canine adventure, while in 2002 he added the three varieties of Griffons to his breeding program; Music Velvet is his kennel name, recognized by E.N.C.I. and F.C.I., with which he names all the specimens bred by him.